Updated COVID-19 Protocols (as of March 1, 2022)
Worship During COVID (as of May 19, 2021)
Building Use During COVID (as of April 1, 2021)
External Links
Centers for Disease Control and Prevention
Virginia Synod Covid-19 Resources
Fauquier County Health Department
---
Protecting yourself and others from COVID-19
As COVID-19 cases are on the rise, it is more important than ever to stay diligent in protecting yourself and others from COVID-19.
Know how it spreads- through respiratory droplets (and sometimes airborne or on surfaces) from talking, singing, coughing, etc., between people in close contact, even if they are not showing symptoms
Wash your hands often for at least 20 seconds- that is about the time it takes to sing Jesus Loves Me or say The Lord's Prayer; avoid touching your eyes, nose, and mouth with unwashed hands
Avoid close contact- maintain at least 6 feet between you and those not living in your household
Cover your mouth and nose with a mask when around others (Masks should not be placed on young children under age 2, anyone who has trouble breathing, or is unconscious, incapacitated or otherwise unable to remove the mask without assistance.)
Cover coughs and sneezes- throw away used tissues and wash those hands!
Clean and disinfect frequently touched surfaces daily
Monitor your health- take your temperature daily and be alert for symptoms such as fever (100.4 F or above), cough, shortness of breath or other COVID-19 symptoms and follow CDC guidelines if symptoms develop. Call your physician for any concerns.
For more information on protecting yourself and others, follow this link to the CDC website.
---
click on each image to view as pdf document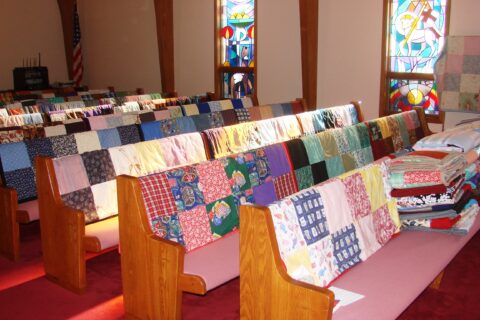 This Year's Blessing of the Quilts was a joyful event!  The amazing Quilt Ministry here at OSLC is hard at work every week of the year. But how well do we understand the impact of those quilts in the world? At the end of September of 2023, our quilting group had 256 quilts ready to go out into the world to bring comfort and safety to someone in need! Each one reflects God's loving presence in a world rife with…