---
Mark your calendars for the annual February Congregational Meeting on Saturday, February 25, at 6:45 following the 5:30 service. A meal will be shared together in the Fellowship Hall beginning at 6:15. 
Attached is a letter from our church council president: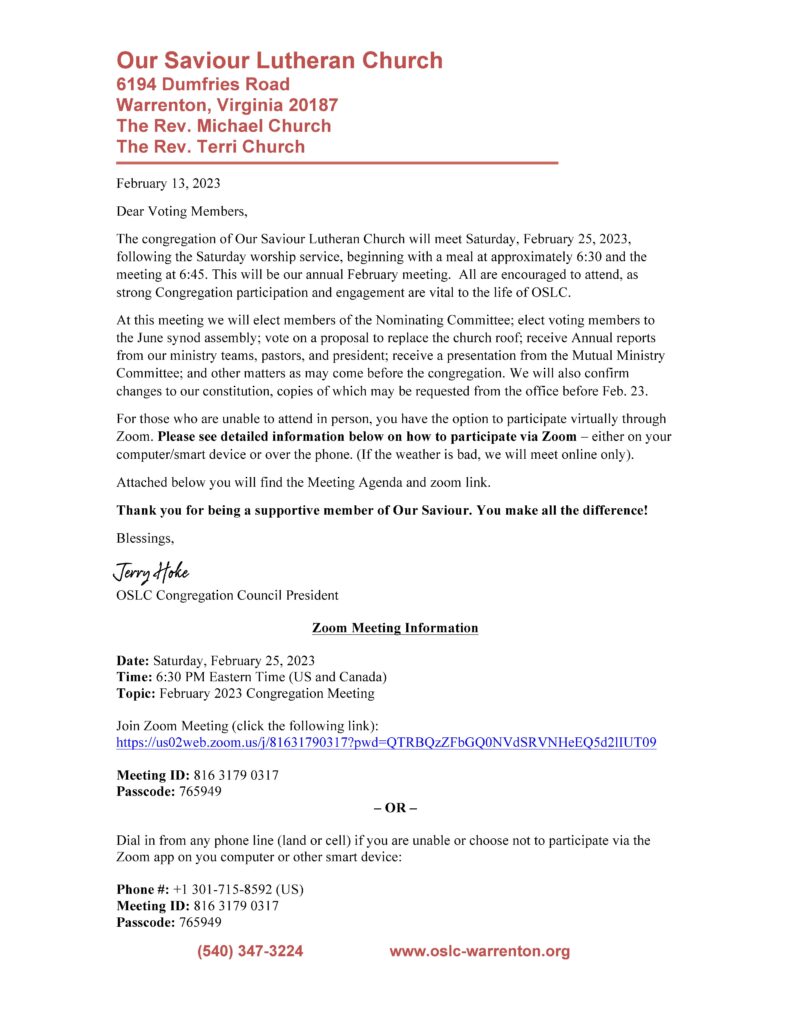 The meeting agenda can be found here. 
Meal Information:
In order for the Fellowship Committee to ensure enough food and drink for those attending in person and the Council to be prepared with tech support for those attending virtually (via Zoom), please let us know whether you are attending by contacting Tamar Yager. We'll have baked and fried chicken with a few simple sides.  If  you would like to help by making mac and cheese, green beans or slaw, please contact Tamar Yager before February 21. You are also welcome to bring a pick-up dessert such as brownies or cookies. Clean up help is always appreciated. 
Zoom Information:
For those who are unable to attend in person, you have the option to participate virtually through Zoom. Please see below for Zoom meeting information as well as a link for our very own "Zoom Best Practices" guide.
---
Voting members, please make every effort to attend either in person or at least online via Zoom.
However, although voting members are the only participants allowed to vote, we invite EVERYONE to attend and celebrate life as a community together!
---
Date: Saturday, February 25
Time: 6:30 PM ET
Topic: February 2023 Congregational Meeting
Location: Zoom (as an alternate for those unable to attend in person)
Join Zoom Meeting (click the following link):  https://us02web.zoom.us/j/81631790317?pwd=QTRBQzZFbGQ0NVdSRVNHeEQ5d2lIUT09
Meeting ID: 816 3179 0317
Passcode: 765949
Dial in from any phone line (land or cell) if you are unable or choose not to participate via the Zoom app on your computer or other smart device.
Phone: +1.301.715.8592
Meeting ID: 816 3179 0317
Passcode: 765949
Additionally, attached HERE is a Zoom guide in case you need it. If you need help in advance setting up your technology, please contact us. We know people who can help you with the equipment you have or who can set you up with options. We want everyone possible to participate!
---
Share this