Voices of Praise is back in the house, even though we aren't!
Join us on Facebook for the Premier of our Saturday Online Contemporary Service, Saturday, May 23, at 5:30 pm.




Then stick around for our first virtual potluck on Saturday, May 23, at 6:30 pm, hosted by Kristin Maynard on Zoom. Plan your special dish or order takeout, pull up a video screen and tell us what you're eating and what you've been up to!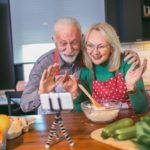 ---
All weekend, we will remember those who have died in service to our nation and the world with Memorial Day.
Join us Sunday during the 10:00 am Facebook streamed service to hear Gregory Behan play a special tribute to honor all military personnel who have died while serving our country in the United States Armed Forces.
Share this