Weekly Worship for Saturday, July 25 & Sunday, July 26
To be taken to our Worship & Sermons page,

---
Come Worship Together Back Inside!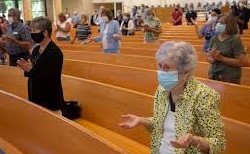 Our Saviour is thrilled to have you join us back inside for Saturday services at 5:30 pm and Sunday services at 10:00 am.
Please click the "Read More" button below to get all the details including how to reserve your spot, which will better enable to keep all who wish to worship together in person

safe.
For those who prefer to stay safer at home, join us on Facebook live.
---
Please welcome our guest preacher . . .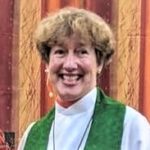 On Saturday and Sunday, July 25-26, the Reverend Sarah Dorrance will be our guest preacher. She is the sister of our very own Marian Rognlien. Rev. Sarah will add some variety to our worship services as she is ordained in the United Methodist Church.
Blessed Fun Fact: A few months ago, she opened up a 24-7 Prayer House in downtown Frederick, MD to empower those who are searching how to pray to have a hands-on experiential way of encountering Jesus. You can see her web site at www.sarahdorrance.com.
---
Calendar:
Please note that meeting/events may be occurring in person and/or online. Please check to confirm!
If you would like to donate flowers in memory, honor or celebration of a loved one or special date, please call Yvette in the church office at (540) 347-3224 with your information. 
---
Adult Bible Study on Thursdays via Zoom

– Resumes Thursday, July 30
Join Pastor Michael on Thursday evenings at 5:00 pm for a new Bible Study series on the Book of Revelation. Find out more on the event page here.
---
Virtual Faith Growth Opportunities:
Dave's Thursday Morning Class 


Join Dave Raecke and others on Thursday mornings at 10:00 am for a class/Bible study via Zoom.


** 

Currently, Dave's class is on a brief hiatus but will be resuming either Thursday, July 30 or the following Thursday. Please keep an eye out for an email update coming soon or contact Dave Raecke directly or by calling the church office. **


 
Thursday Evening Bible Study with Pastor Michael

– Resumes Thursday, July 30


Join us Thursday evenings at 5:00 pm for a Bible Study via Zoom led by Pastor Michael. To enter, sit at your computer or smartphone with the microphone and camera on, and

If you can't connect by computer, it is also possible to dial in by phone (audio only). Call +1 (646) 876-9923 (USA) and enter Meeting ID: 895 0940 7035
---
Receive the Body of Christ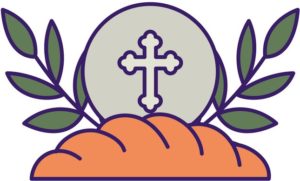 Communion distribution during the week will not be offered while the pastors are on vacation (July 13 – July 28, 2020).
Depending on the need, it may or may not continue after their return since in-person services for both Saturday evenings and Sunday mornings have resumed. 
---
Pastor Terri and Pastor Michael have been on vacation since July 13, but will be returning to the church office of Our Saviour on July 29. Feel free to stop in and welcome them back!
During the rest of the time the pastors are away, we continue to encourage church members to take care of each other spiritually. If you have a pastoral care need, call Yvette Pfeiffer at the church office or Cathy Cogdill at home. They will try to connect members with gifts to members with needs. In a true emergency, they can also reach the Churches.
Council members remain the leaders of the business and ministries of Our Saviour and will help with any day-to-day ministry questions.
---
OSLC and COVID-19
Check out our COVID-19 page for news from the Continuity Committee and how Our Saviour is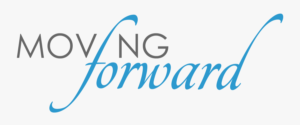 (click on "MOVING forward" above to be taken to page or read just the latest news about worshiping inside together again by following this link:  https://oslc-warrenton.org/worship-back-inside-beginning-sunday-june-28-at-1000-a-m/)
Also, check out the helpful information from the CDC now that Virginia has opened up and especially since Our Saviour is once again coming together in person to worship. We want to ensure that all members, friends, staff and visitors are well informed and keeping as safe as possible.
---
Office Hours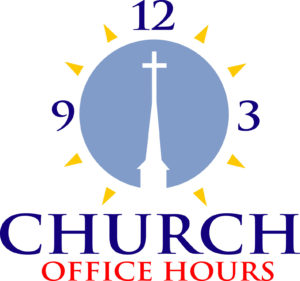 The OSLC office is open most of the week, but official open times for the public are Tuesday through Friday, 9:30 am-2:30 pm. Come by for the Food Closet, offering drop off, or stop in to pray. Please be sure to sign in (for purpose of contract tracing should it become necessary), and wear a cloth mask over your mouth and nose. Don't have a face mask? We'll give you one to keep!
---
Grateful for Your Donations!
We are extremely grateful for the continued offerings!
OSLC depends on weekly donations to keep the church operational. With your help, OSLC continues to be the church regardless of  if we meet in person or worship virtually. Your willingness to invest your time, talents, and financial resources matters!

to help you consider ways you can share a gift and make an impact.
---
Did you miss news updates from previous weeks?
No worries! You can read up on what's been happening at Our Saviour Lutheran Church by going to our our Latest News blog posts here.
Share this