Headlines:  (click a title to be taken directly to that article)
Blessing of the Quilts
Adopt-A-Quilt Fundraiser
LWR Personal Care Kits
Virtual Sunday Fellowship Hour
Every YOUth Matters! (PALMS)
Happening Next Weekend 
Calendar & Altar Flowers
Faith Growth Opportunities
Drive-in Movie Night at OSLC (Next Friday, 10/4 @ 8pm)

---
Worship for Saturday, September 26 & Sunday, September 27
To be taken to our Worship & Sermons page,

---
Blessing of the Quilts During This Weekend's Services 

Please join us for the "Blessing of the Quilts" at the 5:30 pm service on Saturday (9/26), and the 10:00 am service on Sunday (9/27).
Adopt-A-Quilt S&H Fundraiser
— LAST CHANCE
Special envelopes are still available in the narthex to support the Adopt-A-Quilt campaign seeking donations to help offset the shipping/handling costs of LWR Quilts ($2.25/Quilt.) All donations to help further our mission are greatly appreciated. Blessings!
---
Collection for Lutheran World Relief (LWR) Personal Care Kits
— LAST CHANCE
 LWR distributes Personal Care Kits to people all over the world who have lost everything. In the wake of an earthquake or escaping violence, they clasp a towel, bar of soap, and a toothbrush from a faraway place. Washing up, they know that they have NOT been forsaken by the world. You can help by contributing any or all items on the LWR Personal Care Kit list (bath towel, soap, toothbrush, comb, nail clippers). Monetary donations also help us pay for the shipping needed to get the health kits to where they are needed most. Please bring your donations to the church by THIS SUNDAY, September 27.
---
Virtual Sunday Fellowship Hour Theme for September 27 at 11:

00

 am:
Lutheran World Relief Jeopardy!
We have a new start time of 11:00 am. Join us right after service ends — or as soon as you can. Please know it's okay to "come in" after we've started!
This week is the week we bless our quilts before sending them to Lutheran World Relief. Join us for conversation and a chance to test your LWR ministry knowledge. Bring your own coffee or beverage/snack of choice and log in (or call in) at 11:00 am every Sunday.
Click on the Zoom button here:  

… or simply call in from any phone. Call +1 301 715 8592, enter Meeting ID: 890 6783 2655 AND Passcode: 830903
Do you have little ones at home who want to share the joy? Invite them to share a picture they have drawn or come with their own question or answer for the group. Or, as we've seen in some previous weeks—show up in costume!!!
Looking forward to seeing and/or hearing you on Zoom this Sunday!
---
Every    
Matters!
Read on for details about in-person and online, indoors and outdoors, active and laid-back connecting —plenty of opportunities for kids in grades 6-12!
PALMS Night (Middle School Youth) on 9/27 @ 5pm
The Pretty Awesome Lutheran Middle Schoolers are meeting this coming Sunday evening, and I can't wait to reconnect!
♥  Outdoors – Kim Ulrich Park (a.k.a., church back yard)
♦  H.O.R.S.E., keep-your-chair-Moose-Spaz, and other fun and games
♠  Pizza (pre-plated for safety; gluten free will be available)
♣  Canned soda – Sprite was the first request, others avail as well
♥  Dessert – provided by Giselle's family (Thanks, Mrs. Steigelman!)
RSVP as soon as possible, but definitely before you go to bed on Saturday night so we know how much pizza to order. Friends welcome!
Have a mask for whenever we'll need to be close or indoors, but we won't require kids to have them on the whole time.
Come, let your light SHINE!
~ Pastor Terri 
---
Happening Next Weekend
Children's Big, Big House Gathering – October 4 @ 11:00 am


(click image to be taken to event posting) 
Calling all families with children aged 3 through 5th grade! Weather permitting, on Sunday, October 4th from 11:00 am to 12:30 pm we will be hosting a children's gala "Big, Big House" event outside in our Kim Ulrich Recreational Park. We'll run around, play some games, and have a bit of story telling and devotion time. Bring your lunch so that we can break bread together.
We will also have a chance to talk about Sunday School alternatives for the school year. Questions? Call or email Tom Bartkiewicz or Pastor Terri.
Blessing of the Animals – October 4 @ 6:30 pm


(click image to be taken to event posting) 
Bring your furry, feathered or finny friends – or photographs of them – to this brief worship service to thank God for them and ask God to bless them on this special Feast Day of St. Francis of Assisi.
Recognizing the service some canines provide in police work, all free-will offerings will be donated to the Fauquier County Sheriff's Office K-9 Unit.
Please bring animals on leash, in carriers or other appropriate restraints for the safety of all those gathered. And be sure to bring your facemask to wear when it's not possible to physically distance at least 6 feet.
---
Calendar:  
Please note that meeting/events may be occurring in person and/or online. Please check to confirm!

Altar Flowers: Thank you to Andrea Mutterer for donating flowers this weekend in honor of the Quilt Ministry. 
If you would like to donate flowers in memory, honor or celebration of a loved one or special date, please call the church office at (540) 347-3224 with your information. 
---
Faith Growth Opportunities (virtual and/or in-person):
Dave's Thursday Morning Class 

— BACK IN SESSION!
Join Dave Raecke and others on Thursday mornings at 10:00 am via ZOOM for a class/Bible study on "Down + Out: Where Grace Takes You" .
Study summary: "Rediscovering" Luther's ideas of 500 years ago – Justification and Vocation; two ideas—at once simple and scandalous, easily grasped and easily forgotten—central to the Biblical witness, but rediscovered by Martin Luther. Be reintroduced to the reality of God's promises and pointed in the way to where grace takes you.
To join the discussion, sit at your computer or smartphone with the microphone and camera on, and



If you can't connect by computer, it is also possible to dial in by phone (audio only). Call +1 (301) 715-8592 (USA) and enter Meeting ID: 841 3748 0736 AND Passcode: 202668 
Thursday Evening Bible Study with Pastor Michael
Join us Thursday evenings at 5:00 pm for a Bible Study via Zoom led by Pastor Michael. For the current series, go to our Upcoming Events page to see what series he's delving into.
To enter, sit at your computer or smartphone with the microphone and camera on, and



If you can't connect by computer, it is also possible to dial in by phone (audio only). Call +1 (646) 876-9923 (USA) and enter Meeting ID: 895 0940 7035
---
Next Drive-In Movie Night at OSLC — October 2 @ 8:00 pm
(please note earlier start time)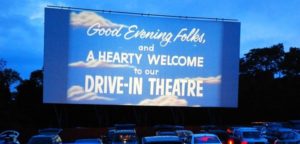 There will NOT be a drive-in movie at OSLC this weekend. However, OSLC Drive-in Movie Night will continue the following Friday (10/2) at 8:00 pm. Stay tuned to find out which classic American film we have in store for you. Be sure to mark your calendar and join us for this blast-from-the-past fun evening!
---
Did you miss news updates from previous weeks?
No worries! You can read up on what's been happening at Our Saviour Lutheran Church by going to our our Latest News blog posts here.