Weekly Worship for Sunday March 29, 2020
To keep our members and neighbors safe, Our Saviour is not holding in-person worship services for the time being. But we WILL worship. And we CAN stay connected as a community of faith through our website, phone, email, social media and other technologies. We all miss being together in person and look forward to the day we can resume normal activities safely.
Our Saviour is excited to offer a "Virtual Church" experience again this weekend. This is a way for us to come together in worship while remaining safe and healthy at home.
Sunday, March 29, 2020 | 10:00 am
A single service will be broadcast at 10:00 am on Sunday via Facebook Live.
Click here to access the Weekly Worship page for Sunday, March 29, 2020
From this page you can download the Worship Bulletin and find a link to join the service.  (A Facebook account is NOT necessary to view the worship service) 
The entire text of the sermon will be posted to the Weekly Worship page by Noon on Sunday after the service.
---
Please Remember to Donate
OSLC depends on weekly donations to keep the church operational. With your help, OSLC will continue to be the church even if we aren't able to be in the same physical location. Your willingness to invest your time, talents, and financial resources in being church together matters – your generosity matters!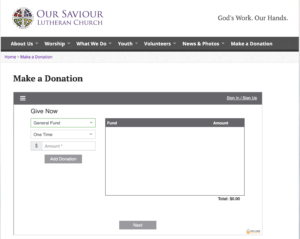 ---
---
Virtual Coffee Hour on Sunday
Feeling isolated?  Going stir crazy? Eager to catch up with friends? Join other OSLC folks after our 10:00 am Sunday virtual worship service – probably about 11:15 am.
There are 2 ways to join:
After the service from your computer or smart phone:
click here to join the Virtual Coffee Hour
You'll need to enter this

Meeting ID: 997 894 468

, which will put you into the conversation.
We are using an online platform called Zoom. It will give you a chance to test your camera and microphone, and then put you in a "waiting room" for a few seconds before you join the party. You do not have to have a Zoom account to attend a Zoom meeting or interview. You will be prompted to download the software, once you have clicked on the link that you have been provided. You may also wish to create an account, but that is not required to participate in a Zoom meeting.
– OR –
You can simply call in from any phone. Call +1 301 715 8592  and enter the same Meeting ID: 997 894 468
---
Want to Help From Home? Here's How!
Over the past few weeks I have heard from many of you how you wish you could do more to help others and your church in this time of crisis. It is a challenge to think of ways to help when the ways we do things have changed so dramatically! So I did some brainstorming with some other leaders, and here are some ways you can help from home.
Pray, pray, and pray some more. Remember our Lenten theme to Pray Always and Pray All Ways!
Take care of your own health.
Reach out to each other with calls, cards, etc.
Watch the Facebook Live worship services and, if possible, comment, click like/love, and share.
Encourage your friends and family to watch the services, either live with us or later by checking out our webpage or our new YouTube channel.
Help your less-technically-inclined friends and strangers access the services. (If you don't know who needs your help, just call the office and we'll connect you.)
Commit to make regular calls to other members and local friends through the Phone Tree organized by Marian.
Join others in making and/or sending out cards to members and those in need.
Donate your treasure by mail or electronic donation.
Click here to donate.
If you can, consider donating extra to help cover for those offerings we lose through this virus response (some people can only donate in person, some have lost income, and more).
Join the online meetings and coffee hours and classes however we are able to line them up, and invite your friends.
Be gentle with each other and show the love of Christ to your families, neighbors, and everyone with whom you come into contact.
Pray (did we mention pray?)!
---
Holden Evening Prayer
Wednesday, April 1, 2020 | 7:00 pm
Holden Evening Prayer service is also being broadcast each Wednesday evening during Lent.
Click here to view the service from Wednesday, March 25, 2020
Click here to join the service at 7:00 pm on April 1, 2020
---
 Christ in Our Home – Free Daily Email Subscription
Christ in Our Home is a devotional resource that encourages readers to live out their faith daily published by Augsburg Fortress. Each reflective reading is accompanied by a daily scripture reference and prayer for the day that follows the Revised Common Lectionary.
To assist with devotional life during this crisis, Augsburg Fortress is offering a limited-time complementary email subscription.  Sign up and they will deliver the daily devotional to your email at 4am Central Time for the remainder of March and April 2020.
---
Help Us Stay in Touch
We need volunteers to help call and check on members of the congregation. It's important that we let each other know that we are still a church family that cares. If you can help, please call or email the church office.
---
OSLC's Ministry Continuity Commmittee Update
Following guidelines from the CDC and other health authorities, as well as the growing consensus of ELCA leaders, Our Saviour's Ministry Continuity Committee has adopted best practice in regard to groups and social distancing. For the foreseeable future, all in-person group activities have been suspended at the church. We encourage Bible studies, ministry teams, committees, classes, etc. to find an alternative means to meet, such as ZOOM, Facebook Live, or Skype. The Continuity Committee is investigating procedures that may allow small groups to meet in the future.
---
Every Friday by 5:00 pm
During this challenging and dynamic time, communicating on the activies and schedules of Our Saviour is a bit like "chasing butterflies"! So, to help keep our members, community, friends and those seeking the comfort only a closer relationship with God can provide, we will post updates to our website every Friday by 5:00 p.m.
Share this