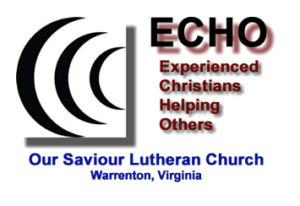 What We Do
The objective of the ECHO ministry is outreach to OSLC's senior community as well as to seniors in the Warrenton area through interesting presentations/demonstrations/etc and a meal. This year we held ten events at Warrenton Manor and five at OSLC.
Why We Do It?
Because when we help others, we find that we're helping ourselves!
Typical Activities
Christmas Sing Along
Hymn Singing
Board Games
Estate and End-of-Life Planning
Various Crafts
Flower Arranging
Learning about Trees
Medicare and Supplemental Planning
Potomac Nationals Baseball
Demonstration of Playing the Harp
Veterans Day Memorial Event
Making Christmas Decorations
Planning Committee Members
Marian Rognlien – Co-leader
Tom Bartkiewicz – Co-leader
Barbara and Richard Baker
Barbara and Virgil Brown
Margaret and Bill Werre
Carol Zeiher
Deborah Hoke
Sharon Fuerlinger
Pastor Terri Church
For Questions About ECHO or to Join
Feel free to contact any member of the ECHO Committee or the church office. We will be glad to put you on the email list so you will be informed of the next meeting of the committee (which is usually the first Tuesday of every month – in the evening).
---
[quote]
"As seniors (primarily), the members of the ECHO Committee interact with others that share common experiences, reminisces, goals and objectives – and sometimes hardships. There is a sense of accomplishment and internal joy that comes from interacting with friends, as well as serving them at the same time, and ensuring that they come away from our events not only having enjoyed the few hours they have invested, but with more knowledge and/or ideas that they had going in. Even greater is to be able to bring happiness to groups of people that are not those you see frequently, and not members of the congregation. These people usually show genuine gratitude for the little things that we bring to them and do for them. Their lives are not necessarily bleak, but they are not necessarily bright either. The happiness that comes from receiving is no less manifested in the happiness that comes from giving. ECHO is all about giving if nothing else."
— ECHO Member