---
Come Worship Together Live & In-person!
Our Saviour is incredibly pleased to have you join us for live in-person worship inside the Nave and Sanctuary on Saturday, September 11 at 5:30 pm (contemporary with Voices of Praise), and Sunday, September 12 at 8:00 am ("simple" service) and 10:30 am (traditional with choir and/or organ music). The Saturday evening and Sunday 10:30 am services will will also be online via Facebook Livestream!  
Join your prayers with the community! During the live stream of the service, you are invited to type into the Facebook chat any prayer requests for those you want included in the prayers of intercession. (As always, you may also send your prayer requests by Wednesday the week ahead to office@oslc-warrenton.org.) Please do this at the beginning of the service so that we can write them up and hand them to the pastors before the prayers start.
Special Note:  The church nursery will be available for childcare during all three services this weekend!
---
Saturday 5:30 pm 
— 
Contemporary Service led by Voices of Praise
9/11 Vigil of Remembrance and Hope
For all of us old enough to remember, we each have a story, a memory or maybe even a personal loss from September 11, 2001. This special service allows us to come together as a community, to pray for all affected by the tragedy of 9/11 and through our continued support for each other, find hope for the future. 
Please join us in welcoming a special guest preacher, The Reverend John Himes, for this service.
Here's a little something about Reverend Himes so we all can get to know him better:  He was baptized, confirmed, and ordained in the Lutheran Church. He is also licensed as an Episcopal priest and Presbyterian pastor. Reverend Himes is "working on" year 52 of being married to Anita, and the couple has two sons and 4 grandkids aged 5-22 years of age. He served as an infantry leader in the US Marine Corps from 1968-1996 and has four graduate degrees, but learned more from living in, visiting, and working in 122 nations around the globe. Reverend Himes says he is abundantly blessed despite making every human mistake possible!
Download Saturday's Worship Bulletin 
---
Sunday 8:00 am — "Simple" Service 
Sunday 8:45 am — Fellowship
Sunday 9:00 am — Sunday School for All Ages (including adults)
Sunday 10:30 am
— 
Traditional Service with Choir and/or Organist
Download Sunday's Worship Bulletin 
---
Readings and Psalms:
Isaiah 50:4-9a
Psalm 116:1-9
James 3:1-12
Mark 8:27-38
Sermon: 
16th Sunday after Pentecost (Lectionary 24) , Year B
---
OSLC on YouTube
Videos of weekend worship services will be uploaded to Our Saviour's YouTube channel later in the week. Click the SUBSCRIBE button to the left to be taken the channel and then click subscribe to be notified when new video's are available.
---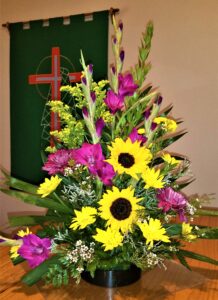 Altar Flowers for this weekend's services were donated by Beverly Gonzales in appreciation of Pastors Michael and Terri Church. 
If you would like to donate flowers in memory, honor or celebration of a loved one or special date, please sign up on the chart in the church office hallway or call the church office at (540) 347-3224 with your information.
---
Liturgical material © 2017 Augsburg Fortress, used by permission of Augsburg Fortress/Sundays and Seasons #SAS009239. Copyright Acknowledgments for print & broadcast: CCLI - Copyright License #2800659 and Streaming License #20585472 (including SongSelect Advanced); and One License #710443-A.



Share this