The pastors and leaders of Our Saviour invite you to join us as we dig deeper in prayer this Lent.
We may not be able to have soup together, but we will truly connect over our online Wednesday services with both familiar and unique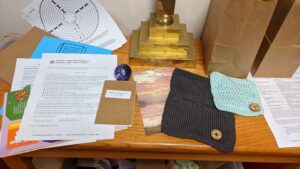 offerings. The Thrive Team is building a lovely prayer walk in our Fellowship Hall, and they are eager to introduce you to this aid to prayer. Also, take a look in the At-Home Lent Devotional Kits we hope you have received. Our theme is "pray without ceasing," and the team who created them have offered plenty of tools to help you do that.
Here's a shout out to Betsy Wilco and all the volunteers who built those connections:
To Emily Ashby and all the crafters she recruited for the prayer cloths!
To Betsy Wilco and Elizabeth Neher for the children's activity packets!
To Cathy Cogdill, Tom Vollrath, Doug and Krista Coyner, and Yvette Pfeiffer for the updated delivery list!
To holistic mentor Shannon Scott for the beautiful mantra!
To spiritual director Tina Korte for the prayer labyrinths and helping select the "walking" theme for the booklets, as well as Dan and Valerie Dombrowski and the Thrive team for building our labyrinth prayer walk at church.
To Elizabeth Neher for leading the way to learn about and help Fauquier FISH feed our neighbors with our offerings!
To Amelia Stansell and Barbara Brown for the ashes for our home service!
To Dean Kolb, Bettie Shiflett, Barbara Brown, Michael Maher, Theo Church, Marian Rognlien, Tom Jordan, Jason Ashby, Jerry Hoke, and all those who provide worship support now and as we come back together!
Thank you to all of those who helped with any part of this ministry of prayer and for connecting us to one another!
We will pray without ceasing through these and other ways this Lent, knowing that we are not alone in our continued separation. We have each other. And, when there are gaps in our individual prayers, moments we cannot pray, the others among us and across the world will fill in. Together, with God's help, our prayers are unending!
Share this